Distinguish your Landscape
Retaining and accent wall structures help stabilize slopes and prevent excessive erosion.  They can also serve as accents to decorating landscape plantings. With our interactive design process we can collaborate and help you visualize fitting them into your outdoor living space.
Premium materials are key.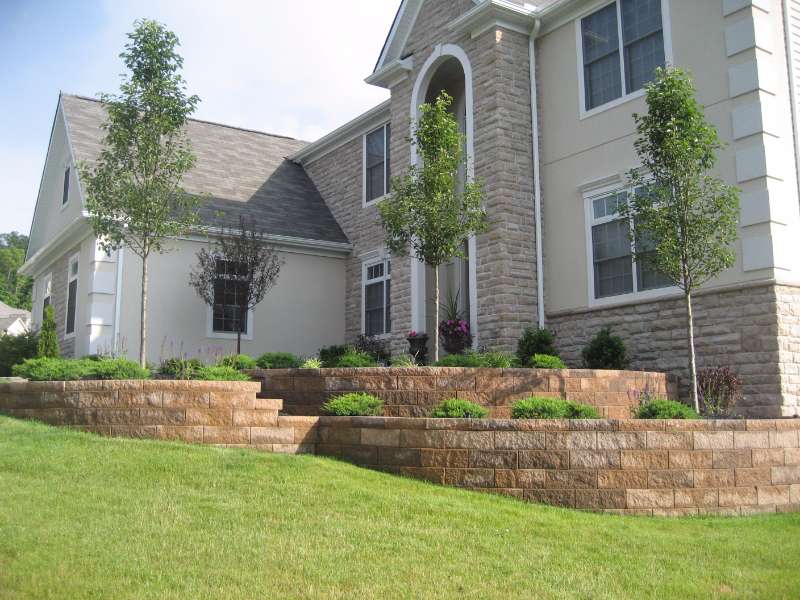 If you're looking for a natural look, we have numerous stone offerings, including flagstone, moss rock, barnstone, and boulders. For a more unified and structured appearance, we offer decorative and modular concrete stone. These come in many different forms and colors and can be customized to fit the look of your residence. We use premium materials provided by industry leading suppliers.
Retaining Walls System from Versa-lo

k

®

Pisa stone, Roman stone and Brussel stone from

Unilock®
Key steps in the Retaining wall installation process:
Professional machinery is used for compaction, and gravel or limestone is utilized for the strong foundational base.
A thin layer of limestone is used as a screening base to establish a level foundation for construction.
Stone or modular blocks are installed.
The structures are back filled, first with drainage aggregate to relieve water pressure against the unit and next with topsoil to establish a garden bed suitable for plant growth.
For higher wall structures, four inch perforated pipe is placed behind the unit for additional drainage efficiencies.
Wall caps are added with strong adhesive, whether stacked in a flush look that is seamless with the remainder of the wall courses or in an overhanging fashion for an appealing shadow look.